PC IT Support (Remote/On-Site) - Computer and Network Services - 021 829 1548 - Cape Town
Wednesday, 25 April 2018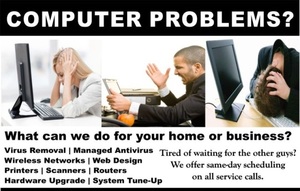 Item details
City:
Cape Town, Western Cape
Contacts

Charles

021 829 1548
Item description
Prices from as low as R199 for an hour IT support
Get support from Certified Engineer
Medium / Small / Home Businesses
We offer a wide range of services including
- -Virus, malware and Spyware Removal
- -Speeding up your PC
- -Setting up security software
- -Solving hardware and technical issues
- -PCs and laptop repairs/upgrades
- -Windows Re-Installation and Upgrades
- -WIFI and Internet Problems
- -Data Recovery and HDD Replacement
- -Computer crash
- -Laptop Repair
- -New computer setup
- -Computer not loading Windows
- -Software installation
- -Setting up of a computer
- -Program installation and configuration
- -Device installation
- -Assistance when the computer does not start
- -Safe data removal
- -Help with gadgets like smartphones, tablets, ipads, smart TVs, etc.
Fast same day service
Home and small office visits
Our IT support expertise includes:
Network Setups from 1 user to 100 or more users
Network Setups and Network Support
We can travel to your location or we can even provide remote services.
Having any problems in cable, network equipment's like router switches or any other problem?
Need a Network Solution?
Want networks to be get separated virtually (VLANs) we can configure it or VPN is required we can do it as well
We can provide multiple network services you name it we can get it deliver for you
Network Design and Development using Managed Routers and Switches (Netgear or other vendors
Network Solution and Support
We can build and troubleshoot your Office network, manage your IT support and provide you IT solutions.
Network Solution and Support
- Setting up broadband connections, LAN and WiFi networks
- Local Area Network
- Servers
- Virtualization
- Multi office Connectivity
- Remote Access
- Netgear Router and Switch configuration
- Data Cabling
We are highly trained and experienced and we will setup a new network for your business and can also provide you further support.
We can help in getting you online like setting up your Internet or providing you Internet service or solutions
We can setup desktops and laptops for your employees and help them with anything they want to know same time.
We can setup Servers, Routers, Firewalls, Switches, Backup servers NAS, local web servers, Anti-Virus, Security
Who are we exactly? and why should you trust us?
I'm a qualified IT specialist with almost 10 years experience in the field.
Throughout my career, I've always thrived to keep up to date with the latest technologies, and have taken various IT exams such as the CompTIA A+ and Network+ to "prove my skills".
Feel assured that I am recognized as an IT expert in the eyes of one of the biggest IT examination boards worldwide.
I pride myself on my passion for IT, and hope to help you with any computer-related issues that you might have.
I aim to provide an honest, cost-efficient and reliable service to you with a fast turn-around.
Call us on 021 829 1548, 084 905 7713 (WhatsApp Only) and we will visit you the same day !