Eml5 patient monitor part no: rtm593 0215160574 - Cape Town
Wednesday, 2 September 2020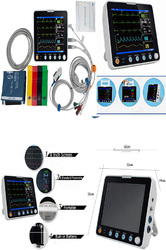 Item details
City:
Cape Town, Western Cape
Contacts

lind ledwaba

0215160574
Item description
EML5 PATIENT MONITOR
PART NO: RTM593
Specefications
• EML5 PATIENT MONITOR patient monitor comes with a 8" Large, Led backlit display to allow for most accurate readings in ECG, Blood pressure, Breathing, Heart rate, Blood oxygen saturation, Temperature in dim light conditions and superbly easy to use.Standard Modules including E*CG, RE*SP, SP*O2, NI*BP, TEM, PR.
• This portable patient care monitor built-in Quad-core AM9 CPU processor, consistently beat other patient care monitor in terms of accuracy and reliability during clinical tests. Run faster, low power consumption and longer service life.
• The ECG monitor features anti-ESU and defibrillator, strong capability of anti-interference, 4000VAC/50Hz voltage isolation. This patient care unit provides variety of monitoring interface for reference, 384 hours trend data memory for all the parameters and dynamic waveform capture, 7 w-a-v-efo-rms display under the highest configuration.
• : Ultra thin design, built-in rechargeable lithium battery, easy to carry. Suitable for adult, pediatric and neonate, can be used at home but need professional personal who know about the monitor.
• The safety patient monitors manufactured under strict quality control. Fencia awards 6 months warranty and lifetime support to assure your long term enjoyment. If your item arrives damaged or encounter any quality issue, please feel free to contact with us.
• Portable Patient Monitor is adaptable to adult, ped-ia-tric an-dneo-nat-al usage. It can monitor vital signals as E*CG, RE*SP, SP*O2, NI*BP, TEM, PR. It integrates parameter measuring modules, display and recorder in one device, featuring in compactness, lightweight and portability.
• Replaceable built-in battery facilitates transportation of patient. Large high-resolution display provides clear view of 4 wav-e -fo-rms and full monitoring parameters.