Art kits - Cape Town
Saturday, 23 May 2020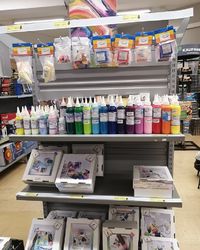 Item details
City:
Cape Town, Western Cape
Contacts

INGRID

072 658 8106
Item description
ART PAINTS AND KITS
GECKO ART ONLINE
Art is such a rewarding form of expression that produces beautiful and unique results – no two pieces are ever the same! But, it's so frustrating to start learning a new art form … trying to piece together your supplies, techniques, and instructions. The information is so overwhelming!
Gecko Art has the perfect solution – Art kits! Everything you need to try a new, fun art form with no risk of wasting money on unnecessary items!
Learn the techniques, while working inside the box that the kit comes in! No mess, no fuss! All the materials supplied are artist quality and fully tested. Each kit comes with full instructions -with pictures and video tutorials available online.
Once you have mastered your kit, Gecko Art has the full sized art materials on hand to carry on down your road of artistic creation. Premixed Fluid Art paints, Jewelry supplies, coasters, polymer clay, etc etc...