Tutor Available First lesson FREE!! - Cape Town
Thursday, 15 August 2019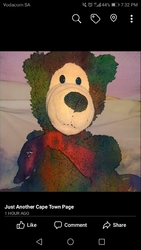 Item details
City:
Cape Town, Western Cape
Contacts

079 598 6417

0828681305
Item description
Experienced primary school tutor assisting students from grade R to 7 in various subjects/ homework/handwriting etc. I am experienced in home schooling and have recently taught grades 6 and 7. My passion includes assisting special needs children. I pride myself on being patient, kind and engaging with my students. I find that being relaxed and friendly has a definite positive effect on the child making even the most challenging subjects seem easier.
Fees include resources (if needed) and all lessons are carried out on a 'one on one' basis. Offering first 1hour lesson absolutely FREE of charge- no obligations.

Fees are R100 per 1hour lesson / R1000 per month for 3 1hour sessions per week.