Affordable Bookkeeping and Accounting at Skytrax Accounting and Payroll Services - Cape Town
Wednesday, 1 May 2019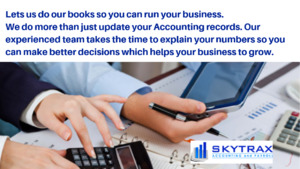 Item details
City:
Cape Town, Western Cape
Contacts

Paul

066 234 3768
Item description
Skytrax Accounting and Payroll Services (www.skytraxaccounting.co.za) is a firm based in Cape Town and Johannesburg. We specialize in delivering a flexible and efficient Bookkeeping, Accounting, Payroll & HR and Virtual Administration Services at a fraction of the costs traditionally associated with them, so we can help to grow your business. Accounting services range from basic bookkeeping to the compilation of management accounts.These can be used both off-site and on-site to manage day-to-day Bookkeeping for small to large businesses or scaled to deliver running an entire Finance function of a business. We have 20+ years of combined experience, and continually invest in developing our knowledge and experience in areas necessary to serve you with excellence. We take the ache out of your headache and able to find a client focused solution "for your headache" in a timely and reliable manner with the utmost integrity and precision.We are Certified Pastel Consultants.

Monthly Bookkeeping and Accounting duties:

Bank and petty cash processing and reconciliation.
General Ledger Journal processing and reconciliation.
Debtor billing (Accounts receivable), processing, reconciliation and age analysis review.
Creditors processing (Accounts payable), reconciliations and age analysis review.
Stock Control processing and review.
Maintaining the fixed asset register and wear and tear register.
We have the expertise and knowledge to deal with Forex accounting issues.
Preparation of budgets and forecast.
Preparation of monthly management accounts, which includes Income statement, Balance sheet, Cash Flow Statement and Ratio analysis.
Complete year end procedures required for the external audit to ensure compliance with International Financial Reporting Standards
Calculation of Input and Output VAT. Review of transactions to ensure compliance to the VAT Act. Reconciliation of monthly and annual VAT. Completion and submission of VAT 201 via E-Filing to SARS.
Trust bank account accounting services provided for Law Firms and Real Estate Agencies to ensure compliance with the various Board requirements.
Apart from keeping you abreast of the precise financial state of your business, our accounting services will keep you compliant with accounting standards and Generally Accepted Accounting Practices for smaller entities (small GAAP).

Please contact us on 066 234 3768 or info@skytraxaccounting.co.za.