Music Lessons for Piano & Keyboard inclusive of Theory & Ear Training - Cape Town
Tuesday, 24 April 2018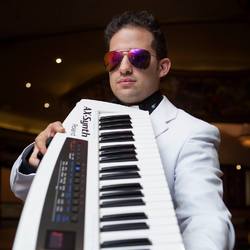 Item details
City:
Cape Town, Western Cape
Contacts

Kevin

084 2468 742
Item description
Kevin Greenberg is a young, talented and accomplished musician excelling in piano and keyboard - with a distinctive sound and an artistic touch in the service of music. Kevin's been performing in front of audiences since 12 - obtaining his pianoforte and theory diplomas in classical music through UNISA and completing his Bachelor of Technikon in Music from Tshwane University of Technology. But despite his training in classical music Kevin's preference leans towards light, contemporary and jazz music. Kevy G is a true professional being fully involved in the music & entertainment industries as a performer, rehearsal pianist and musician in musical theatre, producer, session musician, musical director and CEO for HD Music.

Kevy G offers individual tuition of piano & electronic keyboard, theory and aural training for beginner to advanced learners. Lessons can be given in the comfort of your own home in greater Johannesburg, alternatively in our Sydenham studio.

♫ Learn to play piano / electronic keyboard for personal growth or exams.

♫ Learn to play by ear and improve your musical ear (relative pitch).

♫ Learn to read sheet music using both hands – songbooks, chords charts & lead sheets.

♫ Learn all styles of music such as contemporary, pop, rock, classical, Latin and jazz – to name a few.

♫ Learn and improve playing technique in all styles and 'the secrets' of playing like a pro that you won't find in music books.

♫ Learn the in's and out's of keyboards and synthesizers and how to use 'auto-accompaniment' and play with a full band behind you being a 1-man-band.

♫ Learn how to improvise, busk, have your own sound & stand out from the rest.

♫ Learn the art of playing solo or in any band scenario and how to accompany singers.

♫ Exam preparation available – Royal Schools, UNISA, Trinity College.

♫ Build an extensive song list and learn the songs you enjoy playing.

♫ Build self-confidence and learn how to be a performer on stage or entertain your family and friends.

♫ Improve strength in fingers, wrists and arms.

♫ Improve coordination in sport and everyday life

♫ Professional advice and assistance in the purchasing of instruments and sheet music.



Individual - Weekly 30 mins R 400-00

Individual - Weekly 45 mins R 450-00

Individual - Weekly 60 mins R 500-00



Tuition in the comfort of your own home has an additional travelling fee in accordance to the national AA rates (R7.50 p/km).

Looking forward to meeting you and experiencing your talent!