Yamaha 01V96i Compact Digital Mixer With USB 2.0 Connectivity - Cape Town
Sunday, 26 November 2017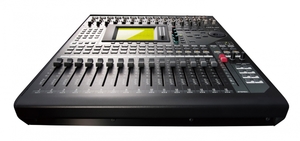 Item details
City:
Cape Town, Western Cape
Contacts

Target Access
Item description
Yamaha 01V96i Compact Digital Mixer With USB 2.0 Connectivity

Yamaha 01V96i
Digital Mixer provides USB 2.0 connectivity to meet the increasing demand for multi-track recording and playback in live sound applications. The 01V96i has never been easier to capture, edit and produce high quality, professional level recordings, thanks to 16 in/16 out live audio streaming at 96kHz and seamless DAW integration requiring just a single connection. USB connectivity also provides extensive two-way communication of MIDI data allowing you to seamlessly combine the precise physical control of your console with all the capability of the latest Steinberg Cubase AI software that comes bundled with the 01V96i.