One-Pennyworth and the Butterfields, Part One & Part Two - Cape Town
Monday, 19 June 2017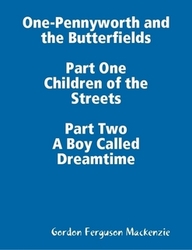 Item details
City:
Cape Town, Western Cape
Contacts

Gordon
Item description
One-Pennyworth and the Butterfields

Part One…Children of the Streets &
Part Two…A Boy called Dreamtime

E-Book by Gordon Ferguson Mackenzie

ISBN 978-0-244-90256-8

An Adventure Story set in the early 19th Century, for young Teens

For a brother & sister, Sam & April, their life is a misery. They live in a workhouse, and hate it. One night the workhouse burns down, and they are cast out into the streets, where they have to beg for money so they can eat. Life is hard, but they meet a boy who is streetwise. He becomes their friend and teaches them how to survive. The three youngsters have many adventures…Good and Bad…Sam has made a promise to April, that one they will be rich, and she will be a lady.

Why don't you Read a sample of this book on the main Internet Book-Sites, to find out if you would enjoy the story?


Thank You…G.F.M.