Affordable Quality Outdoor Cast Aluminium Garden Patio Furniture. - Cape Town
Wednesday, 15 March 2017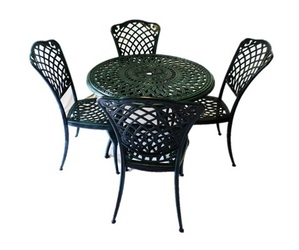 Item details
City:
Cape Town, Western Cape
Contacts

Edward

064 383 4410/0215911750
Item description
FiRNiC offers an excellent range of 2-12 Seat Garden and Patio Furniture Sets, available in a variety of colours, shapes, and designs to match your outdoor decor. Garden furniture is made of cast aluminium, which is highly durable and does not rust with extended outdoor use. Expert craftsmanship and superior materials equates to reliable patio furniture that will stay looking great for years, without the need to be repainted or replaced.

Our garden and outdoor patio furniture is low-maintenance, and requires an occasional wash with warm water and soap. In addition to being highly durable and reliable, our line of sand cast aluminum furniture is professionally designed to bring style and comfort to your outdoor living spaces. Styles include intricate woven patterns, flower motifs, and modern, contemporary, and classic finishes.