Website, Advertising and Designing Solutions - Cape Town
Monday, 22 April 2013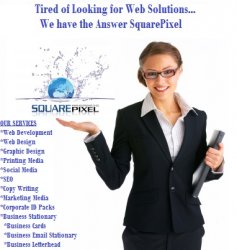 Item details
City:
Cape Town, Western Cape
Contacts

Wesley van Wyk

021 556 0622
Item description
Have you been looking for a reliable and cost effective service?
Is you Business in need of Exposure?
Is your Business in need of a Corporate ID Pack?

CALL US TODAY ON (021) 556-0622
EMAIL US TODAY ON info @ squarepixel.co.za
VISIT US ON www squarepixel co za

We see every design opportunity as a challenge and in striving to deliver a web and graphic design service that is genuinely tailored to suit the individual needs of our clients - we thrive on finding creative design solutions that are both aesthetically pleasing and highly practical.



Marketing services needn't be a mystery, nor should they cost the earth. We keep our solutions simple and affordable and go the extra mile to give you what you need to ensure online marketing success!



With extensive working experience in sales and marketing, printing, IT, networking and accounting, the leadership team at Squarepixel see things from more than just a designers perspective - we understand how business works.



To boost our web and graphic design services, Squarepixel aligns with a professional copywriter and marketing strategist to ensure that we are able to offer you a one-stop-shop solution for all your online and traditional marketing needs.



The proof is in the pudding, so put us to the test today and join our growing family of uber-happy clients.